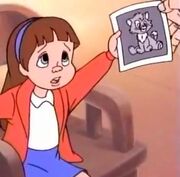 Mandy (voiced by Laura Mooney) is a cute and pretty human girl in Catteries Not Included whose kitten Spunky goes missing. She resembles Penny from "The Rescuers".
Mandy has long brown hair with a blue headband, black eyes, and fair skin. She wears a white blouse, red jacket, blue skirt, white socks, and black Mary Jane shoes during the day, a pink nightgown at night.
Rescuing her cat may also be the plot for Chip 'n Dale Rescue Rangers (Video Game).
Ad blocker interference detected!
Wikia is a free-to-use site that makes money from advertising. We have a modified experience for viewers using ad blockers

Wikia is not accessible if you've made further modifications. Remove the custom ad blocker rule(s) and the page will load as expected.